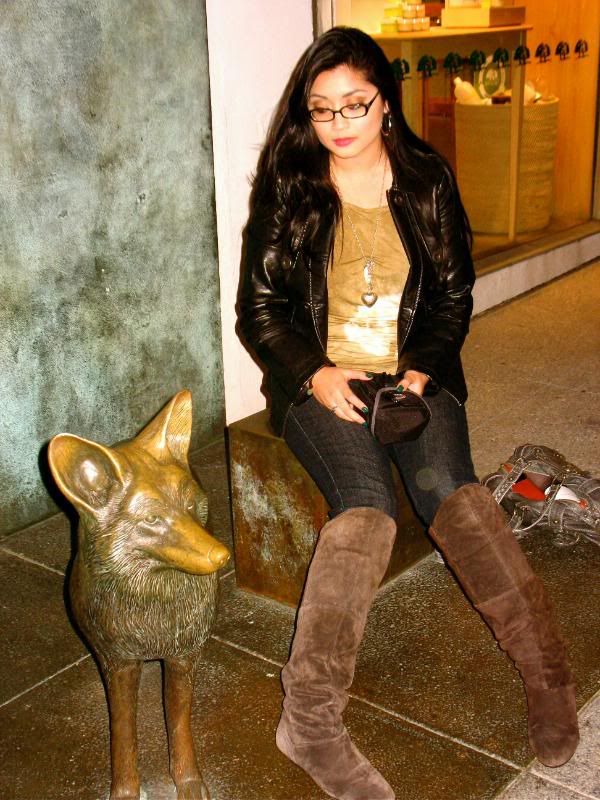 I am officially on Spring Break! Possibly the last spring break of my life. I have been for the past two days, but I'm barely blogging tonight, because I went to my hometown to spend some time with the family. So the 4 of us went to Old Town Pasadena, which used to be the ultimate haunt for Geo and me before we moved to the San Fernando Valley. It has so many stores that I love, but wow-

be proud of me

-I actually didn't buy a single thing. I was very close to getting a pair of Steve Madden platforms, which were on sale, but unfortunately (or fortunately-depending on which way you look at it) the store did not have one in my size. Oh well, I guess it was never meant to be.

Earlier that day, my sister and I went thrifting...which was way overdue! Although, no matter how much I love thrifting, and especially all the bargains I end up getting from it, I still love flea markets more. Maybe it has something to do with being out in the open, and not having to feel like you're being suffocated by all the dust that's surrounding. Nevertheless, I managed to find a white sequined tunic/dress and an oversized cardigan a la MK Olsen-all for under $8. How about that!!!


I had an amazing two days so far. I just wish my babe wasn't working all week. I'll figure out something to do...I'll be in Bev. Hills on Tuesday with my friend Danielle. So that should be fun. Other than that, my spring break is up in the air. Ahh, gone are the days of ULTIMATE SPRING BREAKS. Who am I kidding-it was never really my thing to begin with. :p

Leighton Meester in CK boots. Jealousy ensues. She looks amazing as always.



P.S. Thanks so much for all the wonderful comments guys! You are so awesome, and I adore reading each and every one of your blogs! You have all certainly made blogging much more fun for me, and I truly appreciate your sweetness! xoxo

On Victoria: Shirt & Skinnies-F21/Blazer-Vintage/Sunglasses-Esprit/Bag-Nine West
On Me: Leather Jacket-F21/TieDyed shirt-F21/Jeans-DKNY/Boots-Chinese Laundry/Bag-Mark Ecko