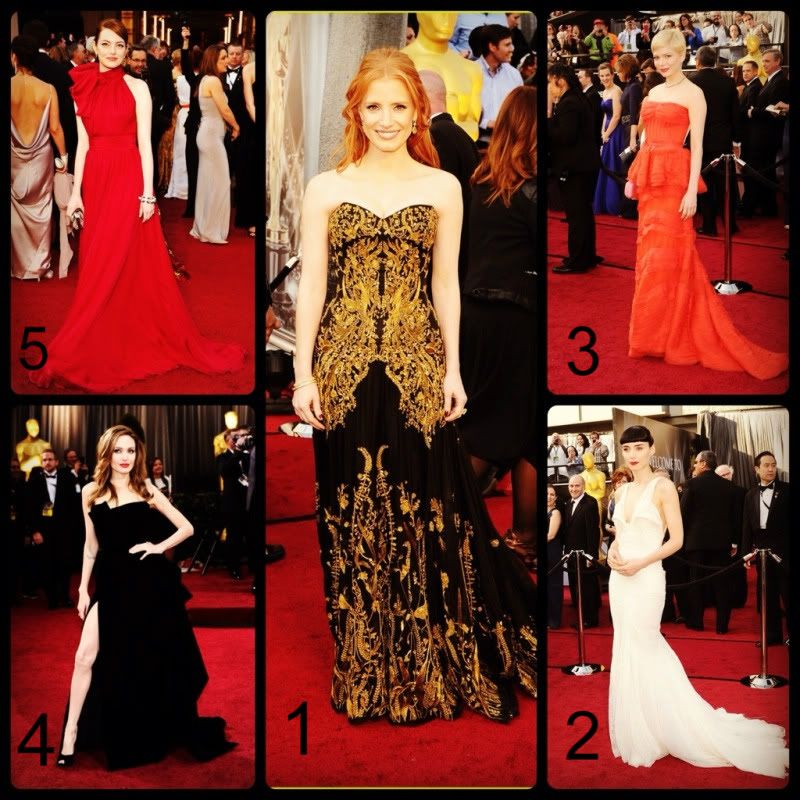 OSCARS 2012
I'm gonna start this off by saying, I was incredibly underwhelmed this year. Emma Stone, as much as I loved the dress probably wouldn't have been on this list-if there was someone else on the red carpet who completely blew my mind. Luckily the top 3 on this list surely did!
5.) Emma Stone in Giambattista Valli- It reminded me of Nicole Kidman's Balenciaga a couple years back. But she kept it fresh. And I love huge, dramatic bows so much that every time I see it on the red carpet, it puts a smile to my face.
4.) Angelina Jolie in Atelier Versace-I love this dress and how simply stunning she looked, but good God-what was with the posing tonight? She just had to show off that leg every second she could. But this dress was so beautiful. I just adore velvet-it's such a unique texture for a gown.
3.) Michelle Williams in Louis Vuitton-This was by far the best she looked this awards season. Love the coral peachy color, which didn't really come across as well on screen, as it does in pictures. The tiers and the ruffles just suit her delicate frame so nicely.
2.) Rooney Mara in Givenchy-I think she's found her designer. She's been wearing Givenchy on the red carpet a lot lately, and it's no surprise. The architectural yet ethereal way the dress looks is perfect. She probably has one of the most beautiful faces in Hollywood right now. And her makeup and hair suited this dress so well.
1.) Jessica Chastain in Alexander McQueen-She was the first person I saw on the red carpet, and I threw my hands up and said-"That's it!" As if no one could top it. And no one did. I was so surprised by her choice, because she usually opts for deep teals or pastels, and solid colors. I was definitely not expecting her to pull out McQueen. She looks so breathtaking, and during her red carpet interview-you can just tell she is probably the nicest person. Makes her that much more attractive.
Well, another awards season is over. And I always tell myself at the end of it, that perhaps I'll be on that red carpet one day. Until then, I quite enjoy doing this. Hopefully if/when I'm on that carpet in the future, I'll be on someone's best dressed list as well. Xoxo