Happy Saint Patty's Day!!!


I wasn't exactly festive today. I did wear green, but not enough to garner a post. So my friend, Danielle will be featured instead of me-wearing the cutest green dress in the world, taken in quite possibly the greenest room in the world. :p


As for me...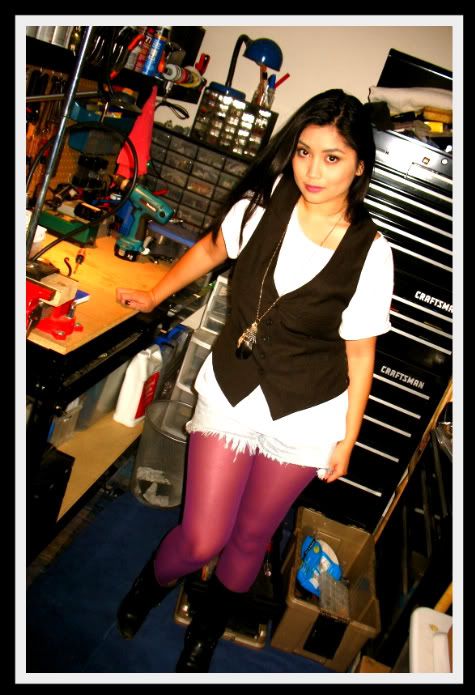 This was taken yesterday before heading to improv. I was so proud of George for finalizing his workshop, so I wanted to take my outfit post in it. Ah...true love, I tell ya. My tights seriously pull focus from anything-they're so bright.
Monday night was filled with great TV.
Gossip Girl
came back with a new episode, but before I get to that,
The City's
season finale aired. Attention must be paid. Though I am glad
The
Hills
is returning next month, there is something about
The City
that is so much more awe-inspiring. Perhaps it's the clothes, or the architecture, or the lifestyle. New York has always been a city I've been passionate about. Maybe I just have to face facts, and come to the realization that although I'm carefree and love the bohemian lifestyle which LA definitely provides-I'm more of an Olivia girl at heart. Just saying it stabs my heart into a million pieces, because LA will always be my home. But it's true...I do prefer looking more put-together over haphazard. And although I have a budding Fedora collection-I own only ONE flannel shirt. My favorite designer is Chanel, and I prefer dinner parties over bars/clubs. That's me in a nutshell. Who knows? Knowing me, I'll probably change it up again (I'm wearing purple tights in the picture above for God's sakes!). My style is ever-changing...but preferring to look chic and sophisticated will remain the same.
Some Fashion highlights from the 1st Season
Whitney
How appropriate for this dress to be featured in the very 1st episode. It's so LA, but still has a bit of a New York vibe to it as well. Good Job, Whit! She's fitting in just fine.
Whitney with bf, Jay. I love everything about this look. The tights, the boots, the boyfriend blazer. There's such a relaxed attitude about it, yet it's still incredibly edgy and chic.
And then there's that couch! That couch I always smack Geo's arm for, every time I see it. The couch that makes me drool all over myself like a dog. It's absolutely gorgeous. And I'm such a sucker for L-Shaped couches!
Olivia
The faux-fur vest she's wearing looks so incredibly warm. For the way my body's temperature fluctuates, I say it's the perfect article of clothing. Just throw it on when it gets too cold-or take it off when it gets disgusting. Plus, it just screams chic.
You all have read of my fascination and adoration for the Diane von Furstenberg blazer a couple of posts back, so this should not be a surprise.
In a perfect world, my apartment would look as immaculate as Olivia's apartment...or Olivia Palermo herself, for that matter. But alas, I'll just continue dreaming of it, hoping to make it a reality in the future.
Back to GG...the episode was hot, but not as hot as Blair Waldorf's (aka Olivia Palermo reincarnated) clothes! Is it just me or have they been making Blake Lively's character sort of 2nd rate to Leighton Meester's. Well deserved I say, Meester is a better actor, and is absolutely gorgeous. Although, I wouldn't mind rummaging through Serena Van Der Wooden's closet anytime...see what I mean, about the whole indecisive style issue?
That's all for now...To all who are going out to celebrate, please drink accordingly. Tata. xoxo
On Danielle: Tartan Dress-Luella for Target
On Me: Tee-AA/Vest-F21/Shorts-Vintage Gap/Tights-F21/Boots-Guess by Marciano