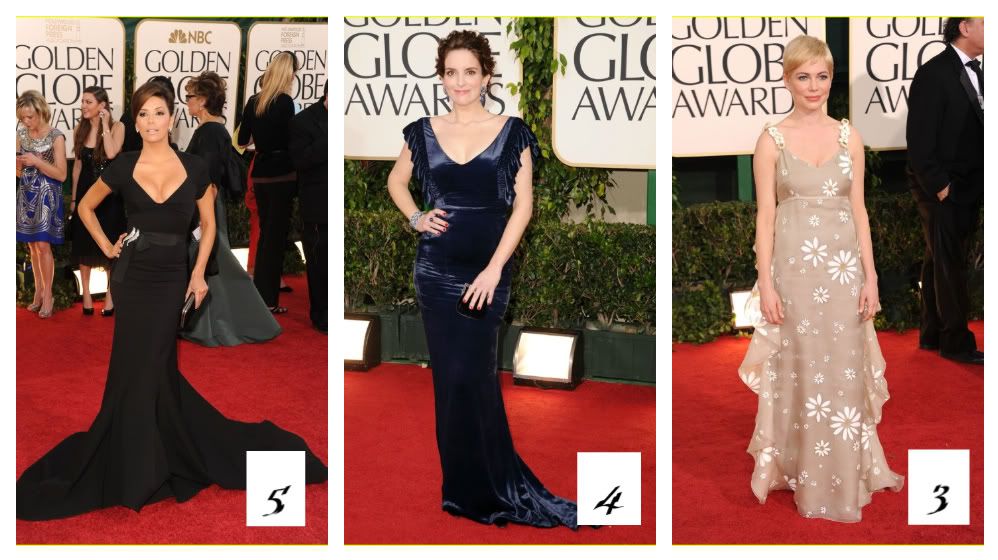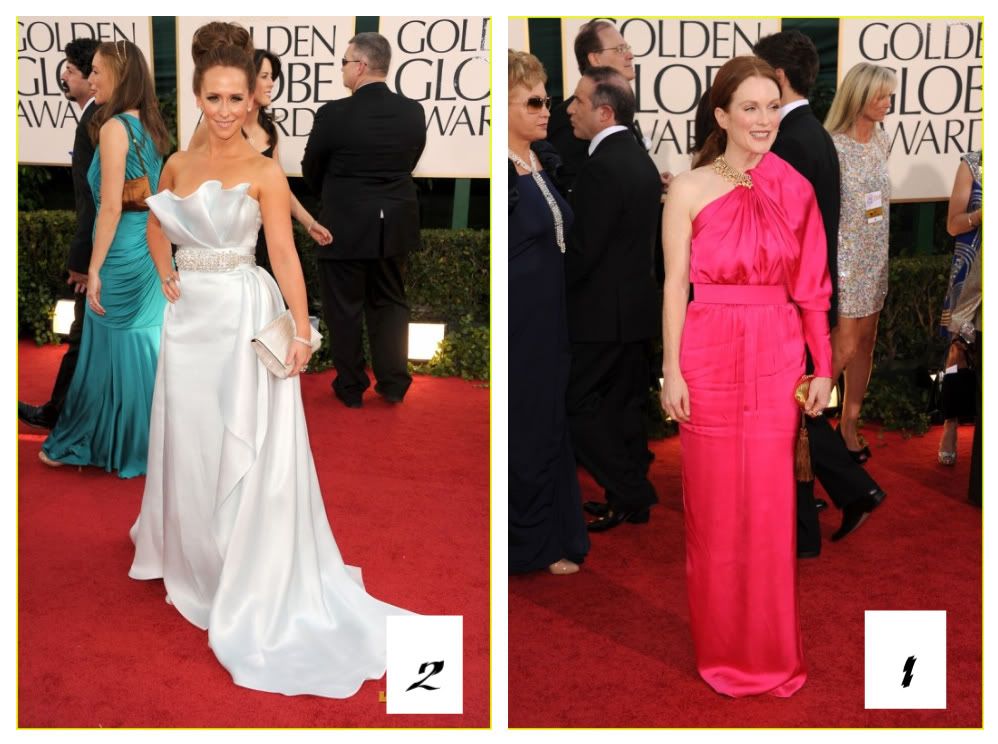 Sorry it took me awhile to post these. Sometimes after an awards show, I like to mull it over for a few days before I make my final decision. ;) Let's start with the worst dress first shall we?
5.)
Eva Longoria in Zac Posen
-I feel like we've seen this silhouette on her a thousand times. It's very typical Eva Longoria. Plus that face she always makes on the red carpet, like she's hot shit. It's annoying and unattractive.
4.)
Tina Fey in L'Wren Scott
-This was actually good for Tina Fey. Although, not good enough. I thought the material was bulky, and made me feel like I was in a bad western. But it's okay...for her.
3.)
Michelle Williams in Valentino
-Ok. Can I just say, this pains me beyond belief, because this is just awful. And I love her, and I love her style. I mean, this is the woman who's Vera Wang Oscar dress I keep on my desktop, just to stare at for inspiration. I just hope she does better for the Oscars, if she's nominated.
2.)
Jennifer Love Hewitt in Romona Keveza
-Again, seen this so many times. Been there, done that. Plus it looks like she has a huge seashell on her chest. Not at all flattering.
1.)
Julianne Moore in Lanvin
-I think she's a brilliant actress, but she always makes the most stupid red-carpet decisions. And it's not like she has an awful figure-she's actually quite stunning. But she chooses dress with a silhouette of a paper bag. And in this case, she looks like she has a giant pink diaper stuck on her arm.
Now, onto the creme de la creme...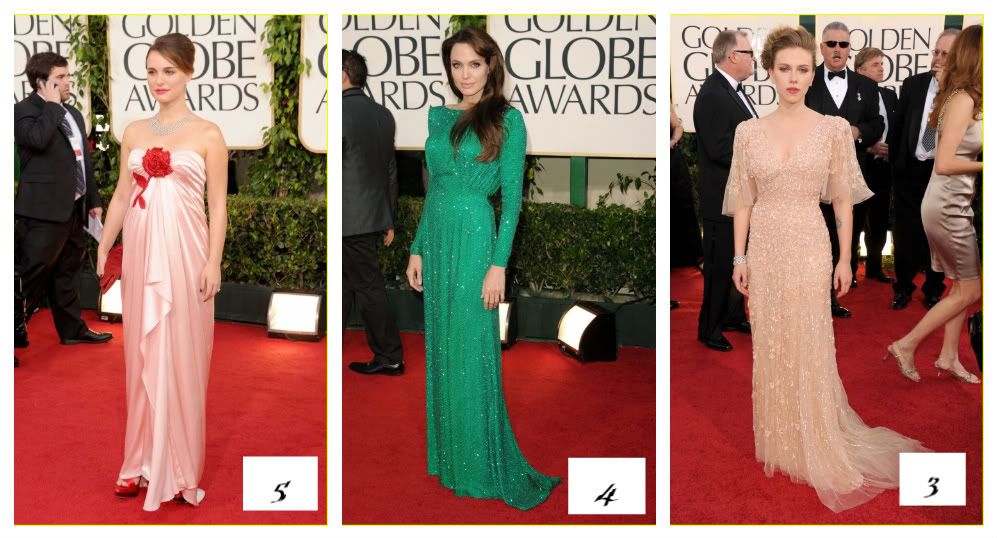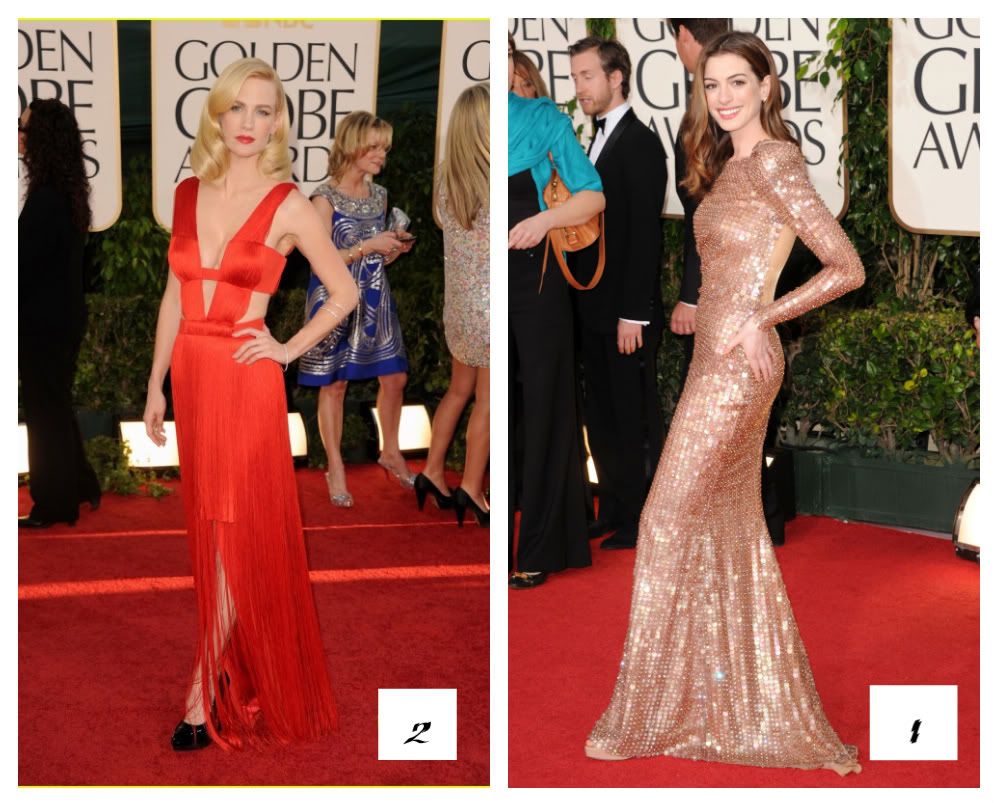 5.)
Natalie Portman in Viktor & Rolf
- I know a lot of people have been hating on this dress because it's very kitchy. But I can't help but love it, only because the colors exude everything she's feeling right now. I've never seen her so happy and so in love. And I think this dress sorta represents that. Plus, she's glowing. How can you possibly hate on pregnancy glow?
4.)
Angelina Jolie in Atelier Versace
- A "roar of screams" emerged from the crowds when she showed up. I guess that's the reaction you get when you look like her. Emerald green was the color of the night, and this vintage inspired gown was the best out of all of them. It's just tailored to perfection.
3.)
Scarlett Johansson in Elie Saab
-She was going to be my number one, but I couldn't get over her hair. It made the whole look very Bride of Frankenstein-ish. But despite that, the gown is gorgeous and it's very vintage inspired which I am absolutely loving right now. I love the butterfly sleeves and the detailing.
2.)
January Jones in Versace
-She's always on my top 5, because she takes risks and constantly pulls it off. She picked this straight off the runway, and said "I want it in red." Done. I wonder what the original color was, because I can't even imagine it being anything else.
1.)
Anne Hathaway in Armani Prive
- I think she looks like a movie star. Which at these types of occasions, is what you wanna look like. But not like you're trying too hard. You just have to exude it naturally-and she certainly does that. The back of this dress, is truly the highlight. It must've weighed a ton. But she wears it like she was born to.
Can't wait for the Oscars! xoxo