My first ever Beauty Post...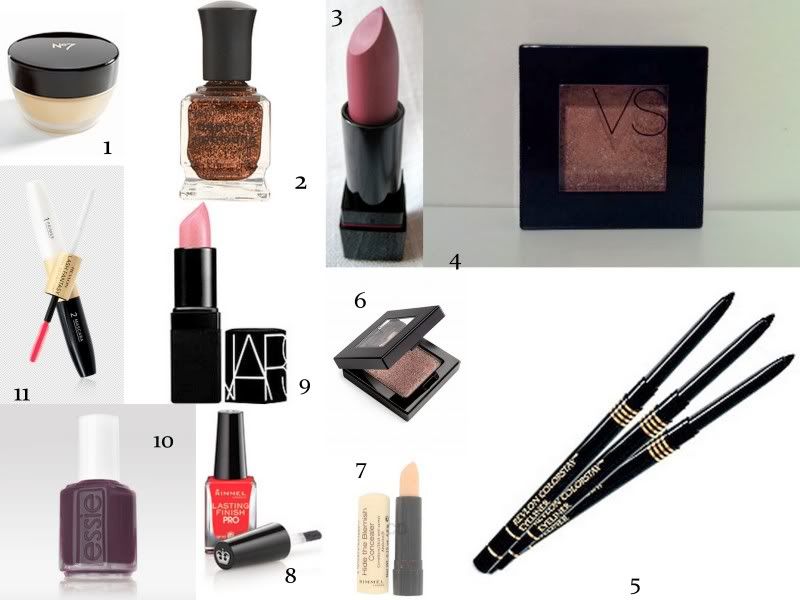 I was gonna get really into this, I mean do a whole tutorial and everything, but I didn't have time. Perhaps I will do one after the move. Right now I am knee deep in boxes, but I wanted to take a quick break to post about a couple of my beauty essentials.
As you can tell from my blog posts, I don't have one ideal regimen when it comes to makeup. Makeup to me, is about reinventing yourself in a way you can't express through words or clothing. I can go from light to dark, with just a simple shade of lipstick. And it'll all depend on my mood-or how I'm feeling that day. Makeup is essential. And anyone who tells you otherwise is kidding themselves. I mean, it won't make or break your happiness-but there's something about makeup that makes me feel just a little bit better about myself on a really crappy day.
I'm a huge fan of drugstore makeup. I have a few things that I spend quite a bit of money on like perfume and my hair products. But as far as makeup, sometimes I feel like the drugstore goodies work just as well as the designer stuff...
1.)
Boots No. 7 mousse foundation in Almond
-I got this at Target about 3 years ago and never looked back. I dread the day that Boots discontinues it, or goes back to Europe. I love the weightlessness of it and how smooth it looks. I can't tell you how many compliments I get on my skin every time I wear it. It's just the perfect foundation.
2.)
Deborah Lippmann in Superstar
-This is the polish I stalk. It's my favorite in the realm of party nails-which I don't do a lot. I usually opt for the more classic colors. But when I feel like a huge change, this is definitely my go to. It's a bit on the ridiculous side when it comes to the price ($18) but it's worth every penny, I feel.
3.)
Victoria's Secret lipstick in Stilleto
-I wear this lipstick a lot. Quite a lot. If you see me on the blog wearing a dark, burgundy hue, it's this. I don't think the picture is the correct shade, but this lipstick is very deep and rich. And makes me feel super vampy. And I love that it stays put...but still Geo refuses to kiss me when I have it on. ;)
4.)
Victoria's Secret eyeshadow in Provocateur
- It's shimmery champagne, for those days I don't want to wear a lot on my eyes, except eyeliner. I like applying it wet, with a primer to really make it shine. A lot of people are always surprised when I tell them the majority of my eyeshadows are from VS. They make the most amazing makeup. No lie.
5.)
Revlon Colorstay eyeliner in Black Noir
-The name says it all. It just glides on and stays put. I never feel the need to reapply, and the black is super intense. Like carbon black. I love it.
6.)
Victoria's Secret eyeshadow in Between the Sheets
-This one is a shimmery brown. I love mixing it with my more matte shadows, to give 'em a bit of pizazz. But it's super creamy, and I also love applying it wet-so the color becomes a little more intense. It's the perfect brown.
7.)
Rimmel Hide the Blemish Concealer
- My mom actually gave me her old one, that she used like twice. She didn't like it very much, but I became hooked. It's stuck with me since 2007, and I've been faithful. I only put concealer under my eyes, and no where else. And this covers up the dark circles very well.
8.)
Rimmel in Stilleto Red
- This shade of red is the old hollywood red I love. It's the red I go to when I wanna feel sexy and going out with my babe. This also happens to be his favorite of all the polishes I own. It dries super fast too!
9.)
NARS lipstick in Roman Holiday
-The name got me at first. It's one of my favorite Audrey Hepburn movies. And then the second I applied it, I knew I had to have it. Again...super pricey for a lipstick ($25), but it sure is worth it. It's my go-to for my light days. It's the perfect pink. A retro pink, if you will.
10.)
Essie in Velvet Voyeur
- This was a gift from Kristina. It beats all the OPI darks I have, in my opinion. It's super soft, and the color is the perfect blend of purple, brown, black and red. It's just my go-to dark, and I love the saying the name!
11.)
Revlon Lash Fantasy in Black Noir
-This was a recent addition to my makeup bag. I wanted to try something new. And boy, am I hooked! I love the fact that there's a primer, and then the mascara all in one tube. It separates all my lashes one by one, and makes them look longer than they are!
So there you have it! I hope you all enjoyed seeing what I put on my face/nails. Maybe next time I'll do a hair post! xoxo