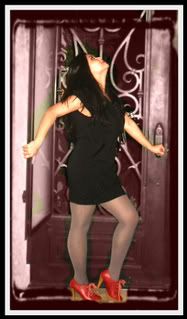 This is me fantasizing living in the gorgeous house I was in last night. My friend Chavonne had a party in the hills of Tarzana, and this is what I wore (sorry the picture is blurred; I had to crop it from another pic-hence I had to sharpen the hell out of it, and this was the best I could do). It was definitely a night much needed, since I feel like lately all I've been doing is school, rehearsal, and back again. I wanted a chance to just relax and have a good time. And that is exactly what I got. So thank you, friends who came out last night to hang. It was a blast.

Current Inspiration:

As an Actor, as well as a Makeup Designer, I always try to find new ways to create new faces. I stumbled upon these pics on
Krisatomic
and immediately fell in love. I might have to recreate it and ask the husband to take some shots.
I really need a haircut. I want to just chop it all off, and for the show I'm in right now, that would be ideal. It's just that, I graduate in May-and I've almost always pictured myself wearing my cap over my long, flowy, locks. I dunno. I guess, I just need to trim it or do something to get rid of the rat's nest.

Fashion Week was awe-inspiring. I wish I was there.

Some highlights:

Although, I would look best in Yigal Azrouel's line. I must say...

You kill me with this dress, Alexander Wang...you really do.
Dress
-Tag Couture/
Tights
-Bakers/
Shoes
-F21