Just to warn all of you...this is going to be quite a long post. I haven't been blogging very much, and when I do it's just pics of what I wore, or the latest thing I want to purchase. And I know it's a little late but I wanted to talk about Sunday night's Oscars. There were so many great surprises, I don't even know where to begin. I really loved all the new changes that were made, especially regarding the acting categories. If I had those legends appear and rave about me the way they did with the nominees-you would have an extremely hard time getting me to calm down. I wouldn't know what to do with myself-I'd be a complete wreck. I was so happy to see Kate Winslet win. But I was kind of surprised that Mickey Rourke didn't win. He had been winning at every other awards show, and this is definitely his year-so that was a shock. And lastly-I was very proud of Hugh Jackman. He made the show so exciting, and uplifting. I hope he gets to host again.

Now onto what most of you care about-My Best and Worst Dressed List. I'm going to start with the Worst:

Worst Dressed
5.)
Sarah Jessica Parker
in Dior Haute Couture-I'm not going to lie. At first glance, I was kind of pleased. But as I saw more and more and more of it-it kind put me off. I've never been a fan of the Princess dress. As a kid, when everybody wanted to look like Cinderella-I wanted to look like Princess Jasmine. So, I never really understood the pouf look. Plus, her breasts are way too big for this dress. It kind of looks like she can't breathe.
4.)
Jessica Biel
in Prada- See I wouldn't have too much of a problem with this dress if it wasn't for the those stupid marshmellows coming out of her dress. For Jessica Biel, simple is almost always better. And even though the cut of the dress, and the color is pretty simple-that little "surprise" in the front, was just off-putting.
3.)
Vanessa Hudgens
in Marchesa-"Oh wow, that is a really pretty dress...oh wait...wait...omg! That's hideous!" If this dress hadn't puffed out at the end, it would've been so much better. It could've even been on my top 5. Well, who are we kidding? I absolutely despise Vanessa Hudgens and everything that has to do with High School Musical. And just the fact that they're invited to this thing, amazes me! Baffles me beyond belief!
2.)
Miley Cyrus
in Zuhair Murad- This girl just needs to stop. Her dress not only looks like a wedding cake topper, but it also makes her look so much older than she is. I'm so sick of these little girls trying to look adult. Geez, embrace the teenage years.
1.)
Beyonce
in House of Dereon-This dress is just so FUGLY. The gold and black is a pretty combination, but it just looks messy on her. I understand supporting your own line, and that's great for the Grammys. At the Oscars, it's a totally different kind of vibe. I just thought her dress was so wrong for the event.
Best Dressed
5.)
Kate Winslet
in YSL- She looks so old hollywood glam. The hair reminds me so much of Grace Kelly. The dress is very sophisticated and I absolutely love the lacing draping down the side of the dress. But the reason why she's number 5 is because the colors are just so drab, and a bit lackluster. I've definitely seen her in better dresses at Oscars' past. She still can do no wrong in my book, though.
4.)
Reese Witherspoon
in Rodarte-I love the colors of this dress. And the neckline is so awkward and off, but I love it. It's unique, and very unlike Reese. I wish I could've gotten a better picture of her, but she didn't walk the red carpet-which I thought was weird. But I loved the way the dress flowed on the stage, and it was such a nice surprise.
3.)
Anne Hathaway
in Armani Prive- She was glowing. I was so pleased, because I hated her dress at the Golden Globes. But wow, she looked like an old-school movie star. She looked like an Oscar. The fish scales was very reminiscent of Marion Cotillard's dress from last year, but since she was considered the best dress from that year-I guess it makes sense she would want to copy that. I wish one of these days, she would just let her hair down.
2.)
Angelina Jolie
in Elie Saab- This is what I call classic black. I love the fact that she coordinated it with Emerald jewelry. The focus went to her face, which is absolutely gorgeous to begin with-and the simple black dress, with the sexy slit-just makes the look so complete. No wonder Brad Pitt never gets tired of looking at her.
1.)
Natalie Portman
in Rodarte- There are two women wearing Rodarte on my list. I'm going to give this designer more attention. When I saw Natalie Portman wearing this...I just about died. Not only did she do a pop of color, in a sea of greys, navys and creams-but she did it with pink. A very risky thing to do while standing on a red carpet. She looked so understated sexy, and princessy without the fuss. It was gorgeous.
So there are my thoughts. Last night...was so much fun. The most fun I'd had in quite a long time. The entire cast and crew of
Anything Goes
went to see
Minsky's
at the Ahmanson. It was such a great memory to add to the already great memories I've gained with all of those people. As far as the show's concernced-it was okay. I was mostly wowed by the ensemble burlesque numbers than I was with the leads. But still, it was a great theatrical experience.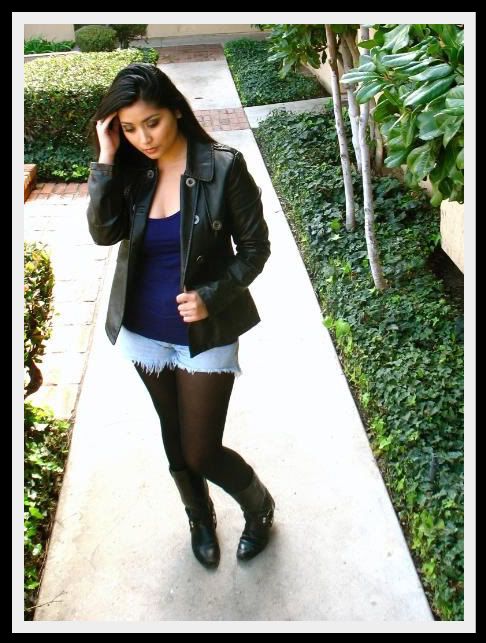 I love L.A.
xoxo

Leather Jacket-F21/Purple Tank-AA/Shorts-Vintage Gap/Tights-UO/Boots-Guess by Marciano